A gifted psychologist, award-winning author, trainer and speaker helping couples
Bio
Mona Barbera, Ph.D is a psychologist with over 35 years experience, specializing in couples therapy, couples workshops, and training psychotherapists. She has been quoted in Better Homes and Gardens, Cosmopolitan,and Mens Fitness and has appeared on Fox25 news in , NBC in New York, News8 in Washington, D.C., Peachtree TV in Atlanta, and KARE11 in Minneapolis. Her book for couples, "Bring Yourself to Love: How Couples Can Turn Disconnection into Intimacy" is the winner of the prestigious 2009 Benjamin Franklin Award in psychology/self-help, the Bronze medalist in the 2008 IPPY awards in Relationships and Sexuality, and a finalist in the 2009 Eric Hoffer Awards.
Mona has written for the academic journals "The Journal of Imago Relationship Therapy" and "The Journal of Psychoanalysis and Psychotherapy," and she has a chapter in "Imago Relationship Therapy: Perspectives on Theory," by Luquet, Hannah and Hunt. She is past chair of the program committee and past board member of the New England Society for the Study and Treatment of Trauma and Dissociative Disorders. She is an Assistant Trainer for Internal Family Systems, a system of psychotherapy developed by Dr. Richard Schwartz. She lives in Rhode Island with her husband. She has private practices in Providence, RI and Middletown, RI.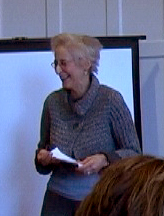 Mona Barbera in a couples therapy training
Brookline, MA.